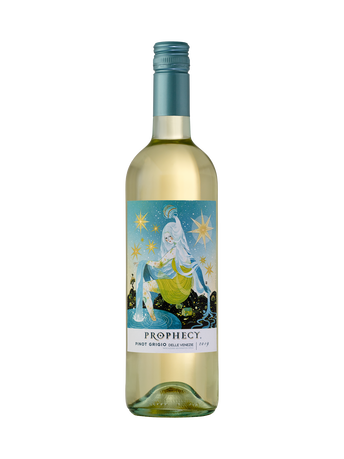 Click

Pinch

Pinch

to Zoom
Prophecy IGT Delle Venezie Pinot Grigio V19 750ML
95 Points from Wine Review Online, February 2021
About this wine
Prophecy Pinot Grigio offers a glimpse into the classic wines of Northeastern Italy, where Pinot Grigio flourishes against the backdrop of the region's stunning landscape. The 2019 Pinot Grigio showcases the region's hallmark styling with citrus characteristics, delicate hints of white flowers and signature minerality. Opening with aromas of citrus, light peach and fresh apple, the wine reveals layered notes of fresh-picked apricot, pear, lemon and luscious tropical fruit. The finish is refreshingly crisp. Grape Selection: The IGT Delle Venezie encompasses three regions of Northeast Italy: Trentino, Friuli-Venezie Giulia and Veneto. From high-altitude vineyards in the shadow of snow-capped mountains to vines thriving in the cool air climate of the Adriatic Coast, the region is known for its elegant and crisp Pinot Grigio wines. The 2019 harvest in Delle Venezie started in the fall. Growing conditions were dry in the winter and rainy in the spring, slowing down the growing cycle. In August, the warm days and cool nights helped maturation, resulting in slightly lower yields of excellent-quality fruit. Winemaking: Grapes were gently crushed, pressed and cold settled before fermentation. The resulting juice was fermented in upright stainless-steel tanks at cool temperature to preserve the fruitfulness of the wine. Wine was aged for two months on the lees to preserve fresh fruit characteristics.
UPC: 008500002449
SKU #: 000000000110009509
Critics Review
95 Points
from Wine Review Online
,
February 2021
A fine balance is struck here between Pinot Grigio's citrus side and its herbal side...that balance lasts through the long finish...love seeing this kind of quality at this kind of price!